Podcast Events to Look Out for in 2021 [Infographic]
---
For a podcast host, podcast events are the most important times of the year, as this is a medium that lets them interact with their fans and other podcasters. It further helps them to strengthen their network and establish a healthy relationship with others in the podcasting community.
In 2021, several podcast events are going to take place. So, pack your bags and get ready for the most exciting podcast events of the year. Below are a few exciting podcast events, which are about to take place in different months of the year.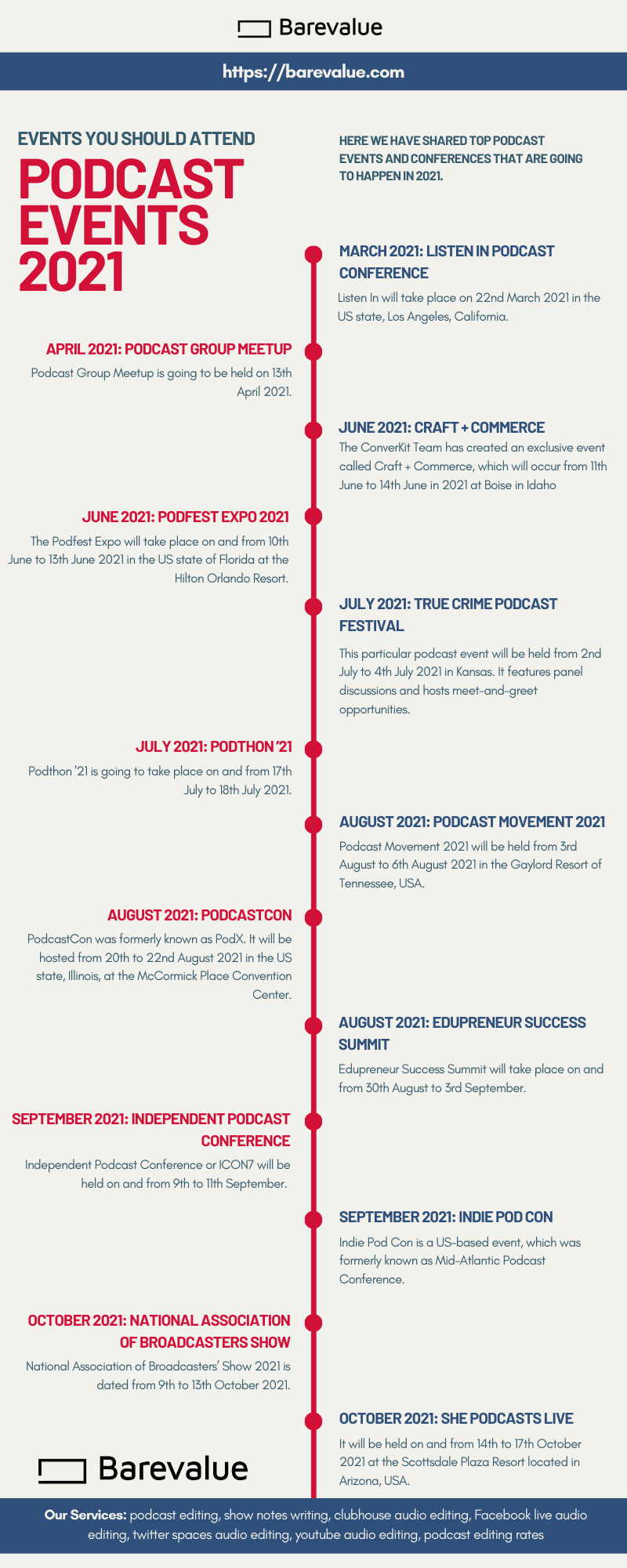 March 2021: Listen In Podcast Conference
Listen In will take place on 22nd March 2021 in the US state, Los Angeles, California. This one-day podcast event is developed for enterprise-level marketing teams. And focuses on making an in-depth engagement, establishes stronger brand loyalty, and helps them to stand apart from the incredibly crowded market.
It encourages you to grab all the necessary opportunities and make use of them in your own podcast. Moreover, you will get insight to make decisions and proceed ahead within the new medium.
Read Also: How to Start a Podcast and Make Money?
April 2021: Podcast Group Meetup
Podcast Group Meetup is going to be held on 13th April 2021. In case you are willing to take your podcast to a new level, you need to meet with other podcasters, share ideas with them, and imbibe various skills from the special expert guests in this upcoming podcast event.
Also, if you want to start a podcast or improve the podcast you already created, you may visit the event for more knowledge. Sweetwater has organized this event in Fort Wayne, a US state.
June 2021: Craft + Commerce
The ConverKit Team has created an exclusive event called Craft + Commerce, which will occur from 11th June to 14th June in 2021 at Boise in Idaho. This event is for bloggers, vloggers, podcasters, freelancers, and online business owners as well.
Business people, creators, and leaders help the attendees to connect and establish relationships. The attendees also get the opportunity to listen to inspiring stories and learn from top-notch creators on how to expand their business.
June 2021: Podfest Expo 2021
The Podfest Expo will take place on and from 10th June to 13th June 2021 in the US state of Florida at the Hilton Orlando Resort.
It is a gathering for those podcasters who keep passionate about sharing their voice and message to the globe through audio and video mode.
July 2021: True Crime Podcast Festival
The crime lovers and podcast listeners will have a great opportunity to enjoy the favorite show live in the True Crime Podcast Festival.
This particular podcast event will be held from 2nd July to 4th July 2021 in Kansas. It features panel discussions and hosts meet-and-greet opportunities.
Read Also: Podcast Editing Strategies to Increase Podcast Audio Quality
July 2021: Podthon '21
Podthon '21 is going to take place on and from 17th July to 18th July 2021. It is a two-day virtual podcasting conference organized by the Asian American Podcasters Association and WOC Podcasters.
They gather podcasters from all over the world who share insightful strategies, offer innovative tips, and speak about mentorship.
August 2021: Podcast Movement 2021
Podcast Movement 2021 will be held from 3rd August to 6th August 2021 in the Gaylord Resort of Tennessee, USA.
The primary objective of this podcast event is to bring together aspiring and active podcasters to motivate and make them learn so that they can expand the podcast industry and community altogether. More than 10,000 podcasters join the event from more than 30 countries and are still growing. podcast editing
August 2021: PodcastCon
PodcastCon was formerly known as PodX. It will be hosted from 20th to 22nd August 2021 in the US state, Illinois, at the McCormick Place Convention Center.
The podcast fans get the opportunity to advance their podcasting skills, build their networks, power up their podcast, and play with their favorites.
August 2021: Edupreneur Success Summit
Edupreneur Success Summit will take place on and from 30th August to 3rd September. This is a 5-day virtual conference whose sole target is to empower educators to convert their classroom experience and knowledge into an online business that brings profit.
This event will also help them to grow an engaged podcasting community and establish a legacy and life for their families.
Read Also: How to Record on Clubhouse App
September 2021: Independent Podcast Conference
Independent Podcast Conference or ICON7 will be held on and from 9th to 11th September. It will be organized at Holiday Inn Philadelphia South-Swedsboro in New Jersey, USA.
This event is a kind of fun gathering for the podcasters. They will gather under a tent, do an after-party, get an opportunity of free headshots, event badges, and a lot more.
September 2021: Indie Pod Con
Indie Pod Con is a US-based event, which was formerly known as Mid-Atlantic Podcast Conference.
It brings podcasters from across the world to the mid-Atlantic states for Google Hangouts and meetups. It will be organized for two days, from 12th to 13th September.
October 2021: National Association of Broadcasters Show
National Association of Broadcasters' Show 2021 is dated from 9th to 13th October 2021. The podcast event will be occurring in Las Vegas, Nevada, USA.
The podcasters will have an opportunity to access critical information, podcasting solutions, and inspirations from this event. It will help them expand their reach to more listeners and viewers.
Read Also: How to Structure a Podcast in 10 Easy Steps
October 2021: She Podcasts Live
She Podcasts Live is an event for women podcasters and industry professionals out there. This helps the women podcasters to learn from the already experienced and successful women podcasters.
This judge-free space enables women to prosper within the podcasting community. Women podcasters are encouraged to speak about their struggles, ask questions, create strong relationships, and expand their business as well. It will be held on and from 14th to 17th October 2021 at the Scottsdale Plaza Resort located in Arizona, USA.
Conclusion
Podcasters from across the world can see others who are facing the same challenges and learn from them to overcome the difficulties.
Moreover, the valuable insights from the most renowned experts and pros can help and guide you in the right way to successfully achieve your podcasting goal with a large audience base.
Next Post
beginners guide
How to Start a Podcast and Make Money?
For a podcast host, podcast events are the most important times of the year, as this...