How to Produce a Podcast?
---
Are you thinking of starting to Produce a Podcast of your own and want to know the process of making a perfect podcast? Then, you are in the right place. In this article, we will have a detailed discussion on the steps in producing a podcast, planning, recording, and much more.
A podcast production procedure will help you to plan every aspect related to your podcast. From sourcing content to inviting guests, everything will get much easier with an ideal podcast production process. A successful podcast show will be like a jolly ride and bring you closer to your audience. So, get ready to know the steps to be a podcast pro.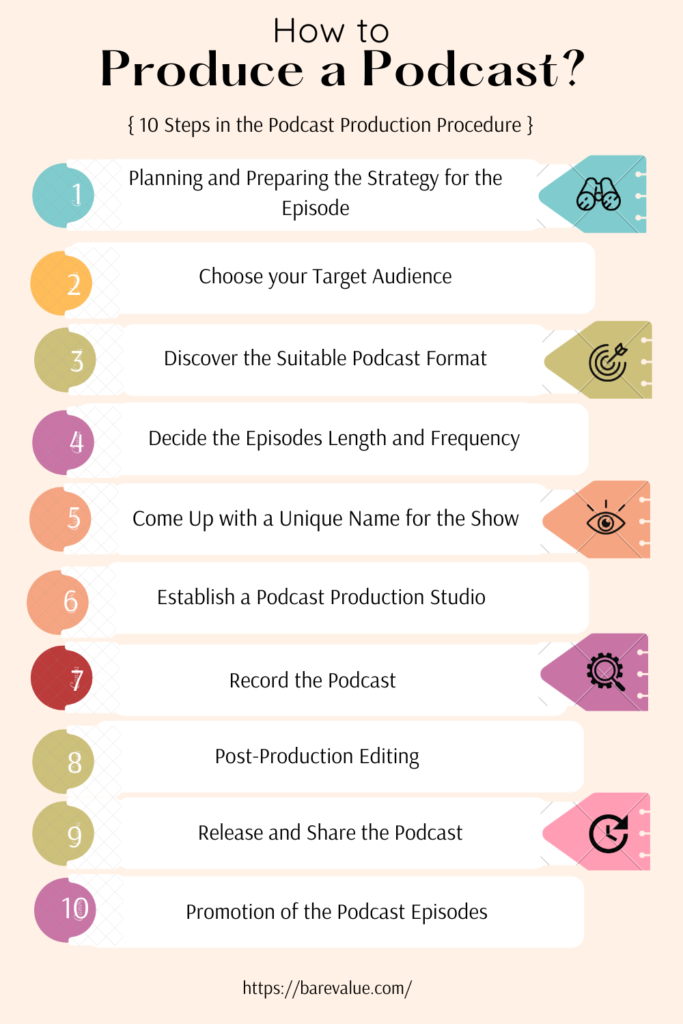 10 Steps in the Podcast Production Procedure
Although preparing an engaging podcast for the audience might look easy, a lot of work goes into making each episode. Things can start getting complicated if you do not make plans and follow them chronologically.
So, below there are a few steps to help you in producing a podcast.
1. Planning and Preparing the Strategy for the Episode
While thinking of creating a podcast, you need to decide on the topics that you would like to cover and the duration of each episode. With the huge number of podcasts all around the world, it is important to think of a strategy that will make your episode stand out and be heard the most.
After the shoot is completed, editors will do podcast editing to make it even better. Before the production of episodes, you have to come up with interesting and engaging topics covering specific challenges. People nowadays like to listen to topics which are new and in trend.
2. Choose your Target Audience
After planning the topics and contents of the episode, you must ask yourself what kind of people or age group you would like to be your target audience. Do a little study on your listeners and try to understand what makes them interested. With this data, you can find new topics for discussion. You can also check out some popular podcasts and know the types of discussions they hold.
A general idea of your audience and topic will make the work easier for you. Topics like reviewing specific brand items, cosmetic products, mental health, and environmental discussion are always loved by a larger audience.
3. Discover the Suitable Podcast Format
Depending on the content you are selecting, you can finalize your podcast format. For example, some podcasts are monologues and are hosted by only one person, while some have multiple narratives like crime novels, podcasts, and so on. Also, you create an episode where you will interview a well-known public figure.
Hosting a celebrity is a great way to make your podcast reach out to more audiences. Some podcasts revolve around only interviewing important personalities, while some are about personal talks on important current topics.
4. Decide the Episodes Length and Frequency
Think of how long you want the episodes to last and how often you will release an episode in a week. An average podcast should last at least 25 mins and not go beyond 40 mins. Always remember to keep the content crisp and short because the audience gets bored with lengthy episodes.
An ideal strategy is to publish multiple episodes a week and keep each episode short to attract a larger audience base. Make sure that they become aware of your data and the release time of the episodes.
5. Come Up with a Unique Name for the Show
Ensure that the name of the podcast is neither too long nor too short. It should be just the correct size. A well-defined title for the show will help the audience know the discussion for the episode. However, lengthy show names may sound dull, and the audience may get uninterested in hearing them.
A catchy and medium-length title with the name of your business brand along with it will be great. It should be memorable and describe exactly what the podcast is going to be about. For example, "The Self-Love Fix."
6. Establish a Podcast Production Studio
The best way to make your podcast sound perfect is to set up a good place and use good-quality equipment for the recording. A designated room for podcast recording with a fixed microphone will give you good audio. Make a budget that you are ready to spend on the equipment and see the options available for you.
Next, you have to choose the software to record the podcast. There will be many options depending on your budget. Select the software that does not compress the audio and ensures high-quality sound.
7. Record the Podcast
Recording a podcast is interesting and engaging. Always remember to be open with the audience and avoid using any unpleasant language or topics that may give rise to controversies. Nevertheless, any unwanted words can be removed through podcast editing in the later stage of production.
As a producer, you can freely engage with the host or a guest, as your video or audio will not be recorded. But as a host, although you can be free with your ideas, bear in mind that all your statements will reach the audience. So, try to sound promising and strong.
8. Post-Production Editing
Once the recording is completed, the next step is editing and launching the podcast. While some producers choose to launch raw files without editing, it can make the episode more appealing and attractive.
You can omit unnecessary words, pauses, and uneasy moments from the original audio to make it clearer. Also, through editing, you can introduce sound effects and music in the audio to make it sound more interesting.
9. Release and Share the Podcast
After you are done with all editing, you are ready to go live with it. You have to upload the podcast as an MP3 file to a podcast hosting platform. Share the audio on famous podcasting platforms to reach out to a wider audience.
You can look for some dedicated podcast hosting platforms to monitor the progress of your show. Monitoring through these platforms can help you gain experience for future episodes.
10. Promotion of the Podcast Episodes
The final step of producing your podcast is to promote it on several platforms like social media, businesses, and other websites. Engage with your audience on social media to let them know when you are planning to launch the next episode.
Online advertisements increase the traffic of the medium used by people to listen to songs and podcasts. The more you promote your show, the more the audience you will get.
Conclusion
Producing a podcast is a new and innovative way to promote your brand as you get to reach out to a whole new audience. Although producing a podcast can involve lots of steps, it can be interesting if you have the right resources and plans to move forward.
Next Post
podcasting
How to Record a Podcast on Garageband
Are you thinking of starting to Produce a Podcast of your own and want to know the...