Video Podcast: Why and How To Launch a Video Podcast?
---
Audio broadcasting has been around since 2004. But podcasts have recently become a revolutionary medium to express opinions. This is due to the development of tools that have made it easier to create and stream podcasts. Podcasts cater to a vast audience. They can be about anything- sports, movies, political affairs, or simple storytelling. In recent times, video podcasts have taken over as the new rage.
Video podcasts are not very different from regular podcasts. But the extra visual element plays a major role in increasing the podcast's reach. Thus, video podcasting can facilitate increased visibility to non-targeted audiences. And availing of reliable video editing services can leverage this process and help you achieve massive growth.
What is a Video Podcast?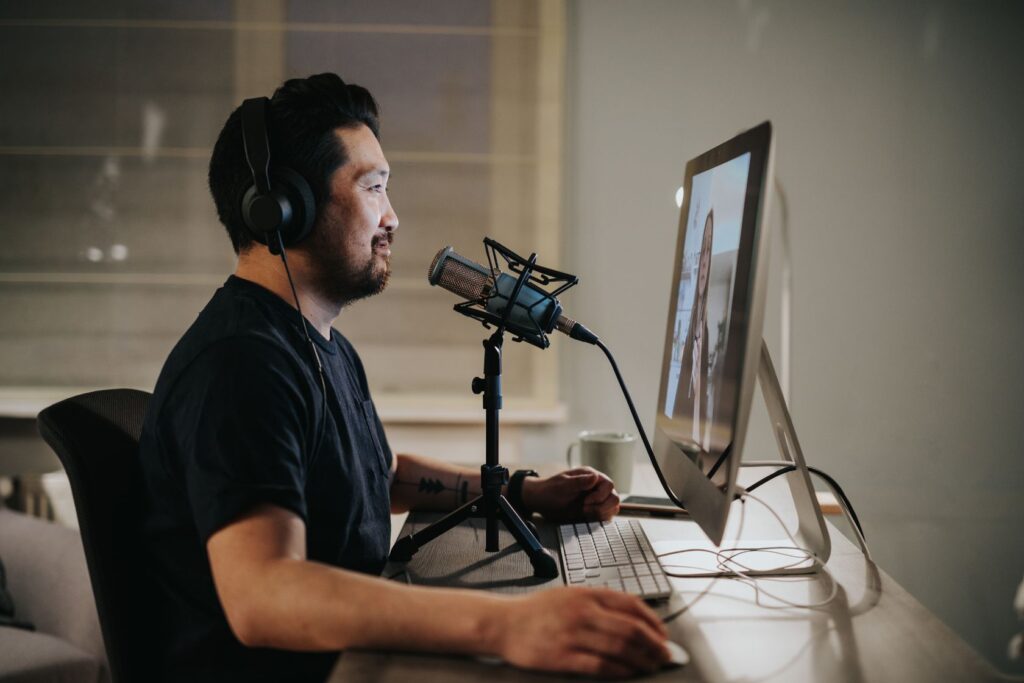 A video podcast is a medium through which the audience hears and sees the podcasters. In simple terms, it is like having a real-life conversation, except that you don't get to give your input.
Why should you make a video podcast?
Most audio podcasts also have video format podcasts. These video versions are available on platforms like YouTube or external websites. It may seem like an extra task, but its benefits are immeasurable.
Audience Engagement
Providing visual aid is the easiest way to engage attention. Video podcasts capture the attention of the viewer. Unlike audio podcasts, keeping viewers focused on the video element is easier.
For example, Mr Ballen is a podcaster who made true crime-related TikToks at first. He switched to YouTube to make longer videos based on real stories. He also has an audio podcast on various platforms. The audience still prefers to watch his podcast due to his body language and gestures.
Discoverability
Video podcasts are streamable on platforms like Apple Podcast, Netflix, YouTube, etc.
These platforms have billions of daily users, making video podcasts more discoverable.
Increased Sharing
Videos capture attention faster than audio. Viewers are more likely to share video podcasts through their social media. Irrespective of the medium, referrals are an easy way to grow your audience.
One time production
Usually, filming video podcasts is a one-take process. It helps in adding an authentic appeal to the creator.
The entire video is cut into smaller parts. These short videos can attract attention on social media. Also, this can help in directing traffic to the full podcast.
Launching a Video Podcast
Starting your video podcast is not a difficult task. It takes more work to set up than to keep it going.
Step 1: Find a niche
Choosing your main topic is the most significant step in launching a podcast. This decides the size of your audience and the ability of your content to go viral. Selecting a base topic may prove to be tedious.
Research can make this process easier. Find out the kind of contempt that is in trend now. Check if it aligns with your interests. Repeat the process until you have a general topic to base your podcast on. Feel free to take inspiration from existing podcasts in the ideation step.
Ensure that your ideas do not replicate an existing podcast. Nobody wants to see recycled content. Add your flair to a concept to make it your own.
Step 2: Get the requisite equipment
Video podcasts need more equipment than audio podcasts. The necessities for a well-recorded podcast are a camera, microphone, and a tripod. Also, extra memory cards, batteries, and easy-to-use video editing software are secondary requirements.
Step 3: Pick a suitable format
Decide the kind of format in which your podcast will be. You can pick a monologue, storytelling, interview, or educational or conversational format. The chosen niche determines the best-suited format.
Keep in mind that the editing needs increase as you bring more people to your podcast. On the flip side, you will notice an increase in the quality and quantity of content.
Step 4: Script your podcast
The script of your podcast depends on the format. You can keep it completely scripted, use a general outline or do away with the script altogether.
Step 5: Record
Recording an episode is the easiest part of the entire process. The natural flow of conversation can make your podcast comfortable to listen to and easy to edit.
Choose a quiet place with natural light or abundant artificial lighting. Ensure that all those who appear on the podcast look presentable. In video podcasts, it is necessary to be well dressed.
Step 6: Edit the footage
A script makes the process of podcast editing easier. Sticking to the script makes it easy to decide what should be removed. Deviating from the script makes the video difficult to edit. Keeping the podcast entertaining while sticking to the script makes editing easy.
This step facilitates the removal of any mistakes. The addition of b-rolls, captions, and animations also takes place while editing.
The editing should not be excessive. Too many add-ons to the video can make viewers lose interest in the podcast.
Step 7: Upload the episode
This step requires a lot of research. Before uploading, you must ensure that its visibility is optimized. To do so, you need to use an appropriate thumbnail and title that attracts attention. To find the best-suited ones, run a keyword search. This will help find the most searched keywords that can garner the most views.
Before uploading, ensure that you preview the entire episode at least twice. This way, no mistakes or glitches can go unnoticed.
There are various ways to post your video podcast. This can be through streaming platforms like YouTube, Twitch, etc. You can embed it on your website. This requires hosting it on a video hosting service provider like Castos.
Step 8: Promote your podcast
Without promotion, the growth of your video podcast will be stagnant and slow. Promotion helps in increasing the reach of your podcast.
Use social media to grab attention and spread the word. This tip can be used before and after the launch of every episode of your podcast. Bloopers make for great promotional content. Ensure that they are either entertaining or provide value for your followers.
Step 9: Analytics
After launching the podcast, the task of analyzing begins. This is a way to track its performance. The engagement, watch time, number of views, etc., determine the podcast's performance.
Conclusion
Diversifying your podcasts is a great way to increase your audience. Statistics show the rising popularity of video podcasts. This is an ideal time to tap into the market. The format is engaging, but the content needs to be entertaining to keep the viewer's interest. Appropriate usage can add depth to your podcast.
Next Post
podcasting
Windows 10 Activator [KMSpico] Free Download Latest
Audio broadcasting has been around since 2004. But podcasts have recently become a...