How to Start a Podcast on YouTube
---
These days, it could feel like everyone has a podcast. But, there is a good reason for it: podcasting is an affordable way to reach an audience and build brand awareness for yourself or your business. It makes sense to have YouTube in your strategy as it is one of the most significant sources of audio content online. So, how to start a podcast on youtube?
The truth is that more and more podcasters are uploading their episodes on YouTube. They expand their reach and make their content available to the site's 2.3 billion monthly active users.
YouTube isn't a music platform.  It has the most number of audio content listeners than any other platform. YouTube attracts 47% of all music streaming listening time globally. According to the Music Consumer Insight Report, it recently defeated Spotify to become the US's top site for podcast consumption.
We'll go over the basics of creating a podcast from scratch in this article, with one of your end goals being YouTube: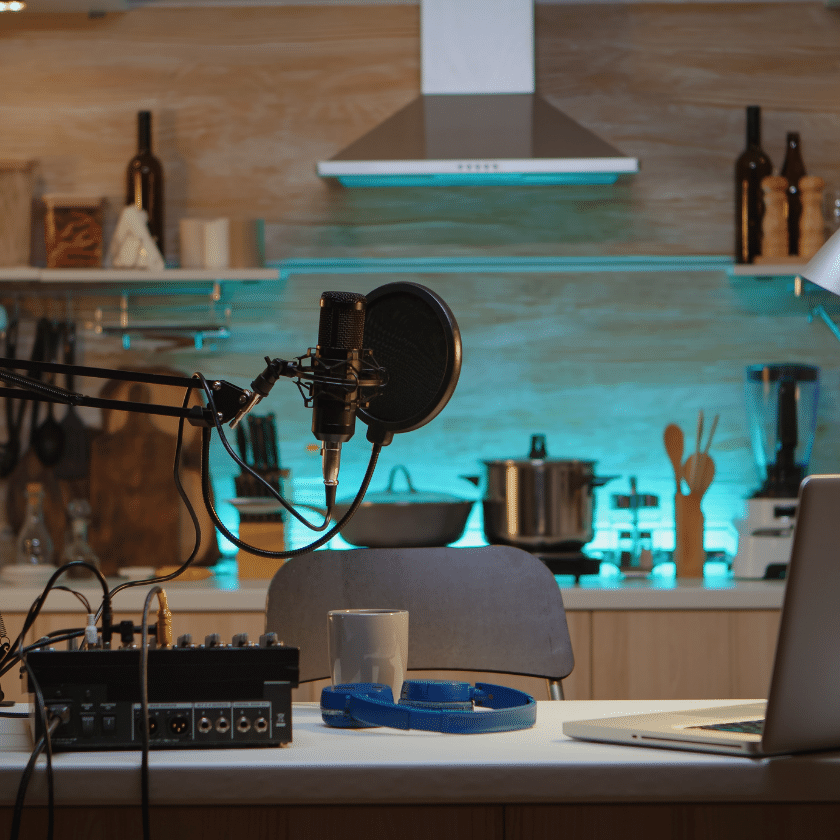 Reasons to choose YouTube for your podcast
According to a survey of those users who listen to podcasts on YouTube first visit the platform to find new content.
YouTube boosts your audience
Over the past few years, podcast listening has rapidly increased. Currently, more than half of Americans over the age of 12 listen to podcasts.
Nearly 2 billion people use YouTube each month, consuming more than 1 billion hours of content daily. These users are using YouTube to get their favorite podcasts.
The most popular place to download podcasts is YouTube. Apple Music and Spotify are in second and third place, respectively.
YouTube's analytics are better than podcasts
Your podcast's analytics are just as important as those for any other type of content. You may better understand your audience and become aware of who is listening to you and what connects with them.
When it comes to web analytics, Google is the world standard. Google owns YouTube, which has many of the same data and analytics tools. Compared to most podcast sites, this offers you a lot more information.
It allows the use of shorter video clips to promote episodes
If you don't want to publish your entire episode on YouTube, you can promote your podcast on YouTube. Upload clips from each episode to promote it on YouTube.
This method offers three benefits:
It encourages listeners to download the entire episode on their preferred podcast listening app, which can result in more sponsor revenue.
Instead of a 45-minute episode, people are more likely to share a shorter video.
They are great assets to share on social media.
You can get real-time feedback from the comment section
You may have one-on-one conversations with your viewers on YouTube. Platforms for podcasting cannot offer this. As they watch your video, viewers can leave feedback, which helps them connect to the host.
So, YouTube is definitely something to keep in mind if you're thinking about launching a podcast, especially if your topic or audience is well suited for video.

How to Start a Podcast on YouTube
Unfortunately, you cannot directly upload MP3s to YouTube. You'll need some of the equipment to start a podcast on YouTube.
Choose your Equipment
A YouTube equipment kit is the first thing you'll need to start. Choose the software and equipment you'll use for your podcast first.
Here is the basic podcast youtube video equipment:
1. Microphone
Consider whether you'll need a USB connector or a more sophisticated XLR connector with a mixer while looking for the best mic for your needs.
2. An HD camera, webcam, or a phone camera
You should be ready to film a video of your recording session at the outset using a good camera, especially if you intend to upload your podcast to YouTube.
3. Lighting
Most importantly, you need to have lighting control. Your video podcast episodes will all appear similar thanks to this. But, it also means that since you are not dependent on natural light, you can record whenever. Your videos will also look and feel more professional with lighting equipment.
4. Tripod
A tripod or camera stand is a key piece of kit to have if you want to make videos that seem professional.
Other equipment and software are:
Mic arm
Audio Mixer
Headphones
Recording and Editing software
Plan Your Episode
If you want to guarantee that your podcast episodes are packed with value, there must be a script or structure involved. But I'll repeat this advice when it comes to launching a successful podcast on YouTube.
While having a strategy for each episode of a standard podcast that is just for you are required. It is quite simple to trim, cut, and paste the audio to reach the desired result.
Record Your Episode
Choose your recording method before you publish your content to YouTube and before you produce audio on your media hosting platform.
The setting for your video podcast must be stunning. Setup, presentation, and lighting all need to be top-notch for your YouTube podcast to hold its own among the rest.
Edit Your Podcast
It's time for the post-production phase. Podcast editing requires technical skills, especially for a video podcast.
You can quickly customize your content and fine-tune your audio with youtube audio editing services. The platform suggests exporting your last episodes as MP4 videos.
Promote your Podcast
Don't rely solely on organic SEO traffic. You must continually increase your audience and spread awareness of your work by uploading new episodes. But, to do so, you'll need to come up with effective ways to promote your podcast.
You can post an announcement on social media. Create a little preview video introducing the special guest who will appear in the upcoming episode. You-Tube Shorts is a fun and really effective way to attract viewers to your full-length episodes.
Starting a podcast on YouTube is a highly effective way for expanding your audience. And, it's not that challenging. To maximize your show's success on the platform, follow the best practices.
Next Post
podcasting
How to Start a Podcast on Spreaker
These days, it could feel like everyone has a podcast. But, there is a good reason...